Residual materials (composting, recycling and waste)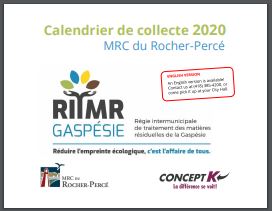 See the 2020 COLLECTION CALENDAR
To see 2020 WASTE COLLECTION CALENDAR
Please note that since January 2009, all municipalities must bury the waste collected in a technical landfill as required by the Government of Quebec. The cost of landfill will be billed according to the number of tonnes of landfilled waste. Also, in order to reduce the municipal bill, the City of Percé urges you to conscientiously recycle and compost your organic materials.
Collection of garbage, recyclable and compostable materials
The collection of household and commercial garbage, recyclable materials, compostable materials, as well as the collection of large refuse are carried out by the Intermunicipal board for the treatment of residual materials of Gaspésie (RITMRG).
For all information concerning these collections, please contact the RITMRG directly at: 418-385-4200 or at www.ritmrg.ca
______________________________________________________________
Residual materials management plan
The Régie has developed a joint residual materials management plan (PGMR) for the Rocher-Percé MRC and the La Côte-de-Gaspé MRC. This document, adopted by the MRCs in December 2014, sets out the planning for the management of residual materials (GMR) in the territory for the period 2015-2019.
______________________________________________________________
Recycling center
The Percé recycling center is located at 50, route Lemieux. Telephone: 418-782-7050
The opening hours are:
May 1 to October 30: Monday – Wednesday and Saturday 8 a.m. to 5 p.m.
November 1 to April 30: Wednesday and Saturday 8 a.m. to 4 p.m.
Note that the recycling center is closed on public holidays.
TERMS AND CONDITIONS:
When you arrive at the recycling center, you must register at the reception and the operator will complete the register. Proof of residency will be required .
A numbered coupon will be given to you for the year on your first visit and will give access to Three (3) FREE SORTED TRIPs for the year, of a maximum of 50 cubic feet
From the fourth (4) trip, a rate will be applied depending on the type of material and the quantity received.
For more information, please follow the following link: http://ritmrg.ca/ecocentre-chentperce/